About Gazetteer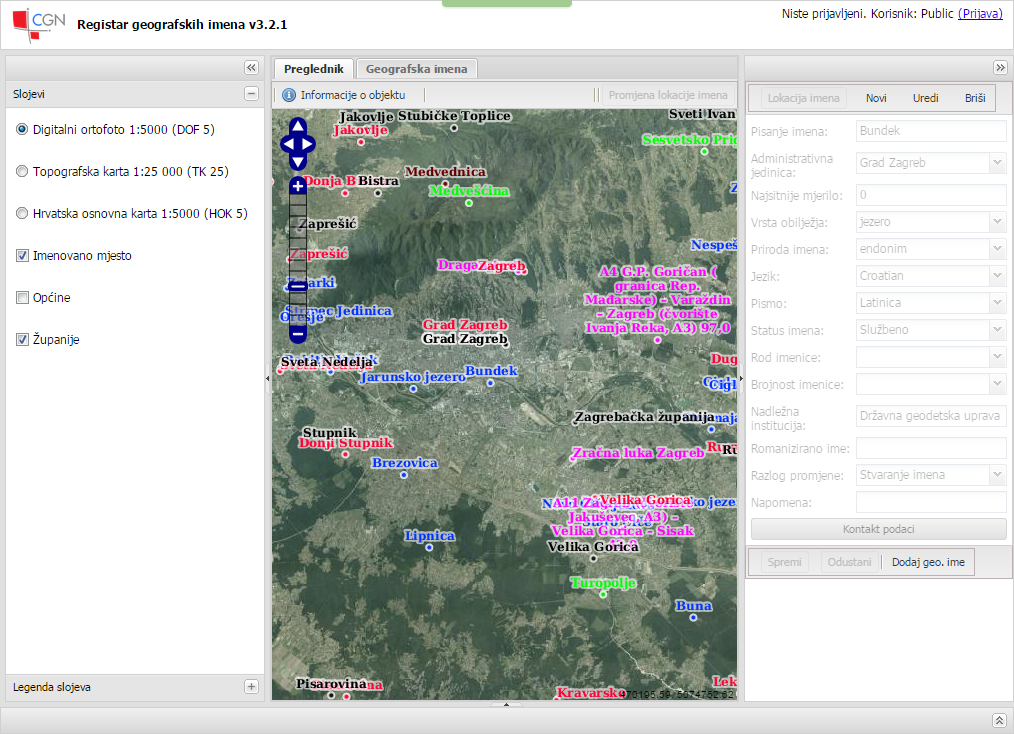 After United Nations Group of Experts on Geographical Names (UNGEGN), as the main organization for standardization on geographical names, the Gazetteer is list of toponyms arranged in alphabetic or other sequential order, with an indication of their location and preferably including variant names, type of topographic feature and other defining or descriptive information. The Gazetteer is used in linkage with map as referent document. However, geographical names are not only a part of map, they are also very important communication tool reflecting historical and cultural development of some area.
The Gazetteer contains endonyms. In the moment, Gazetteer data are based on topographic map of the scale 1:200 000 and other sources. The service contains names proportional to this scale. Proportional to the scale is also catalog of geographical features (objects) and accuracy of names georeferencing. Google map used in this service gives possibility of zooming in to the bigger scale than it is source of data. Because of that there could be distinction between name position in the Gazetteer and Google Map.
The Gazetteer contains names of: counties, towns/municipalities, settlements, UNESCO cultural heritage places, airports, national parks, park of nature and other protected objects of nature, names of the new topographic map sheets, EuroRegionalMap, EuroGlobalMap v.3.0, etc. Also there is intention to import all names of: islands, rivers, lakes, mountains, peaks and other dominant geographical objects according to the scale. Continuously works on development and updating Gazetteer are in progress.
Service is giving information:
Geographical name – name of a geographical feature (object),
Administrative unit – administrative unit where geographical object is placed,
Class – classification of geographical object,
E, N – East and North coordinate of geographical name in Croatian Terrestrial Referent Frame 1996, transverse Mercator projection in meters,
Location – cartographic visualization,
Object classification after EuroGeoNames system of European infrastructure of geographical names in other languages:
Croatian (cro),
English (eng),
German (ger),
French (fre),
Italian (ita),
Spanish (spa),
Dutch (dut),
Hungarian (hun),
Slovenian (slv),
Slovakian (slo),
Czech (cze).
Each geographical name is placed inside of administrative unit to be easily located in space. Administrative unit can be: Republic of Croatia, county or town/municipality. The first two classes are given explicitly (Republic of Croatia and county), and other administrative units are towns/municipalities. Administrative unit of Republic of Croatia is assigned to dominant national objects laying in two or more counties (for example river Sava, mountain Velebit, etc.), and county is assigned to objects spreading through two or more towns/municipalities. But, if some small object spreads trough two or more towns/municipalities (e.g. small river in border area of two municipalities) this rule was not followed. In these cases to administrative unit is assigned municipality in that geographical object is more dominant.
More detailed information on the Gazetteer of Geographical Names are available in the following publications: